We are excited to announce that for July, we are introducing some outdoor classes back to our timetable. 
Whilst the centre itself remains closed and we will continue some online virtual classes, we will be running a series of yoga, meditation, pilates & fitness classes within the grounds at MADE, Moddershall Oaks. 
Outdoor classes are £5 for 50 minutes or our virtual classes are £3.50 for 40 minutes (free for members). These can be purchased as class passes through the MADE app or contact hello@welcometomade.com to get an account set up.
Outdoor classes can be booked and paid for up to 6 hours before the class start time. Classes will only go ahead if there are 5 participants or more but have limited numbers to ensure correct social distancing takes place.
Please meet on the MADE car park. Fitness classes will go ahead in (most) all weather. Yoga, pilates and meditation will only go ahead if it is dry. There are limited numbers so book now! We will send you an email confirming what to bring and any other details when you book.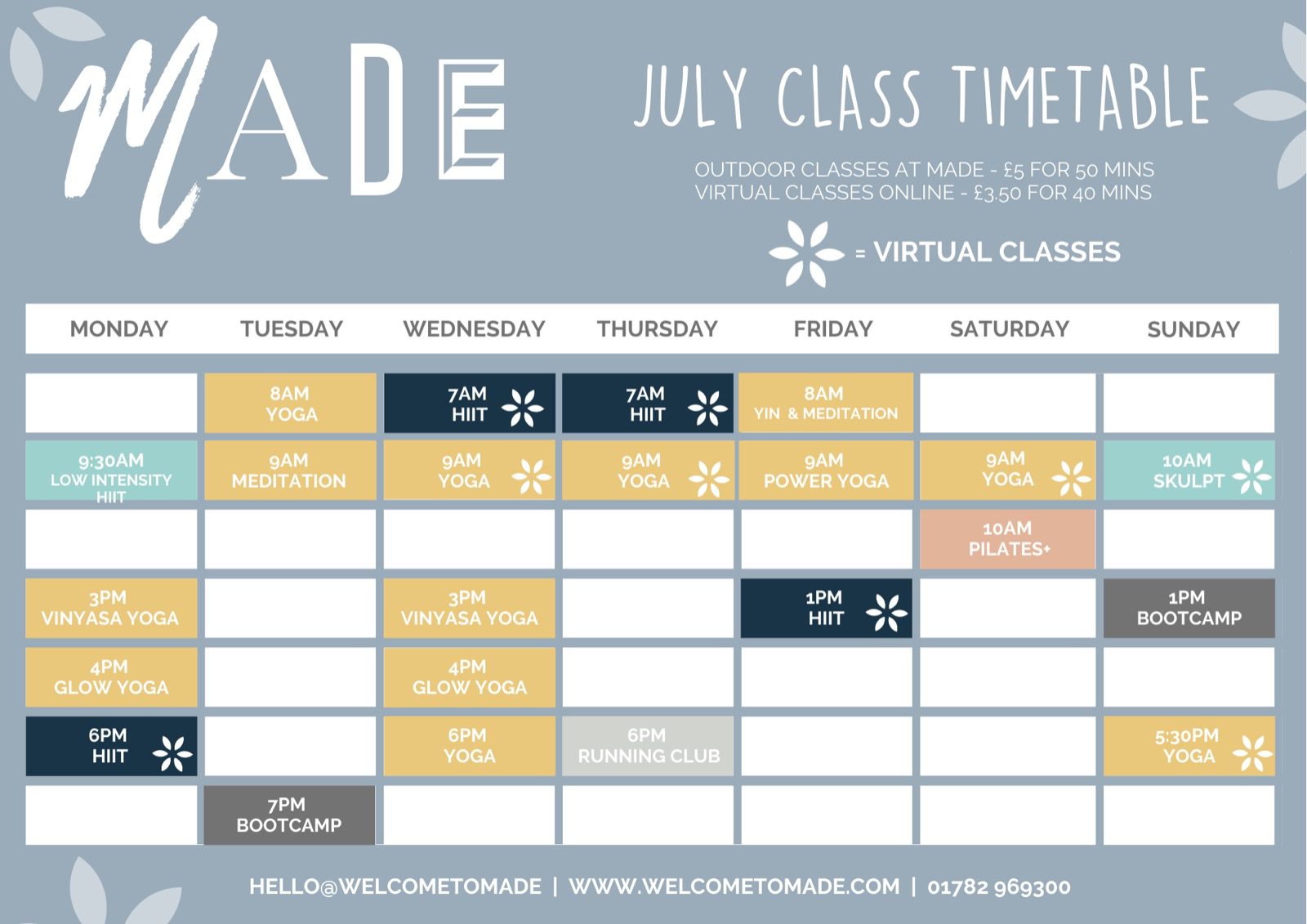 MONDAY
9.30am Low Intensity HIIT
3.00pm Vinyasa Yoga
4.00pm Glow
6.00pm HIIT (Virtual)
TUESDAY
8.00am Yoga
9.00am Meditation 
7.00pm Bootcamp
WEDNESDAY
7.00am HIIT (Virtual)
9.00am Yoga (Virtual)
3.00pm Vinyasa Yoga
4.00pm Glow
6.00pm Yoga
THURSDAY
7.00am HIIT (Virtual)
9.00am Yoga (Virtual)
6.00pm Running Club
FRIDAY
8.00am Yin & Meditation 
9.00am Power Yoga
1.00pm HIIT (Virtual)
SATURDAY
9.00am Yoga
10.00am Pilates+
SUNDAY
10.00am Skulpt (Virtual)
1.00pm Bootcamp
5.30pm Yoga (Virtual)