MADE Zoom Timetable
As we currently can't offer our usual timetable of classes we've devised something to still get involved here at MADE.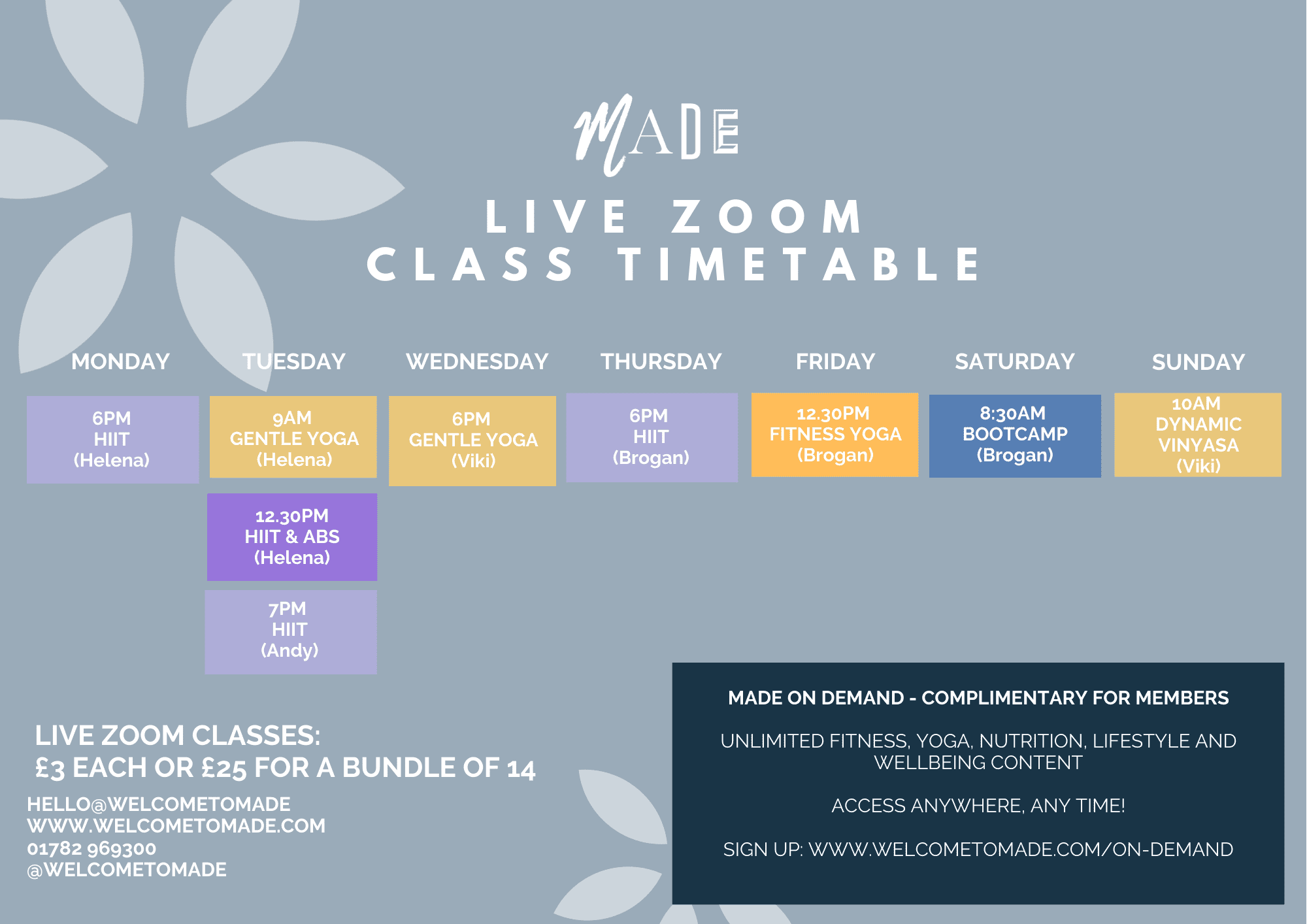 MADE Timetable
April 12th – May 17th 2021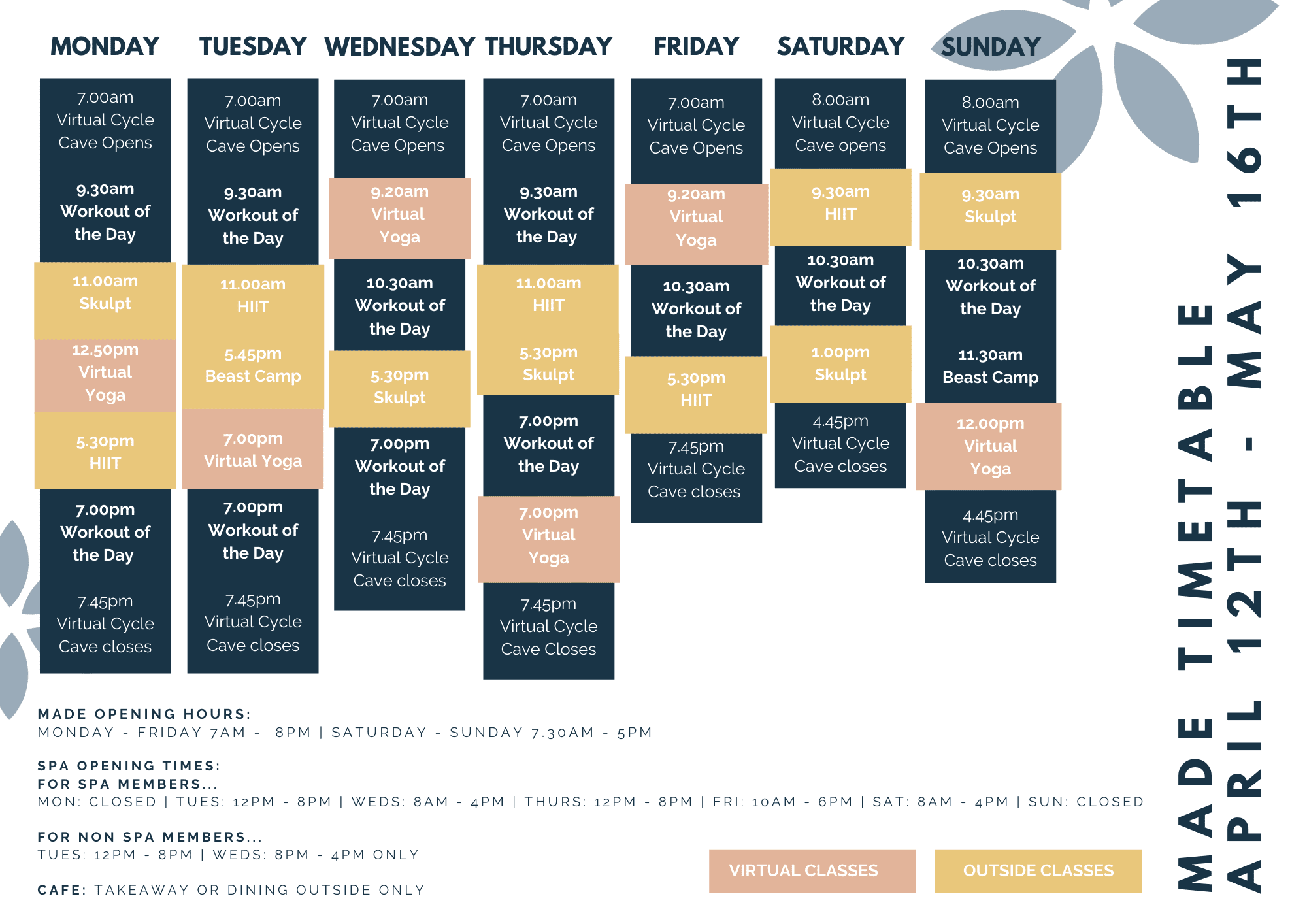 MADE offers a wide range of fitness classes and activities. Each of our workout zones offers something different – from our functional studio and indoor cycle cave, to outdoor training terrace and surrounding grounds.
MADE SIGNATURE CLASSES… there's never been a better time to start or update your fitness journey. Our signature classes are suitable for any level and are a fusion of different fitness forms.
NB: Classes are subject to change. Please access our app or call us to check our schedule. Classes are approximately 50 minutes unless otherwise stated.
CLASS SPECIAL OFFER
For the whole month of August, buy 10 classes for just £50 (normally £70!)….that's just £5 per class! 
Passes can be redeemed against any of our signature classes including Skulpt, BeastCamp, PsychoRIDE & Glow Yoga. 
Passes have a 4 week expiry from purchase and you can buy multiples. 
If you have our app, just head to the webshop to purchase the bundle and the credits will automatically be applied to your account so you can get booking! 
Alternatively, call to purchase 01782 969300 or email hello@welcometomade.com
MONDAY
6.30am Get LIT
7.30am Skulpt30
8.30am Glow
9.30am PsychoRIDE
10.40am X.Yoga
12.00pm Hatha Yoga
5.00pm RIDE30 – 30 mins
5.50pm Skulpt
6.50pm RIDE30
7.30pm Pilates+
TUESDAY
6.30am Skulpt
7.30am Get Lit30
8.30am Glow
9.30am Get Lit
10.00am Get Lit
11.00am X.Yoga
4.1opm Get Lit
5.50pm Skulpt
6.50pm Beast Camp
7.00pm PsychoRIDE
8.00pm Glow by Candlelight
WEDNESDAY
6.30am RIDE30 – 30 mins
9.00am Hatha Yoga
10.10am Glow
11.15am RIDE30
4.0pm Members' Only PT – 30 mins
5.15pm Tabata
6.00pm Skulpt
7.00pm Tabata
7.00pm PsychoRIDE
8.00pm Glow by Candlelight
THURSDAY
6.30am RIDE30
9.30am Skulpt
10.30am RIDE30
1.00pm Glow
2.00pm Beginners Yoga
4.20pm Tabata
5.00pm Tabata
3.00pm Get LIT
5.15pm PsychoRIDE
6.00pm Yoga
7.00pm Glow by Candlelight
8.00pm Glow by Candlelight
FRIDAY
6.30am Skulpt
7.30am Get LIT
8.30am Glow
9.30am PsychoRIDE
11.0am Glow
12.00pm Hatha Yoga
2.00pm Members Only PT
3.00pm Yoga
4.10pm X.Yoga
SATURDAY
7.30am Tabata
8.20am Vinyasa Yoga
9.20am PsychoRIDE
10.30am Pilates+
12.30pm RIDE30
1.00pm Members Only PT
SUNDAY
8.00am Skulpt
9.00am EnCore
9.15am PsychoRIDE
10.15am Pilates+
11.30am Beast Camp
1.00pm RIDE30
3.30pm X.YOGA
4.30pm Glow by Candlelight
5.30pm Meditation