Nutrition
What Luce Eats – Peanut Butter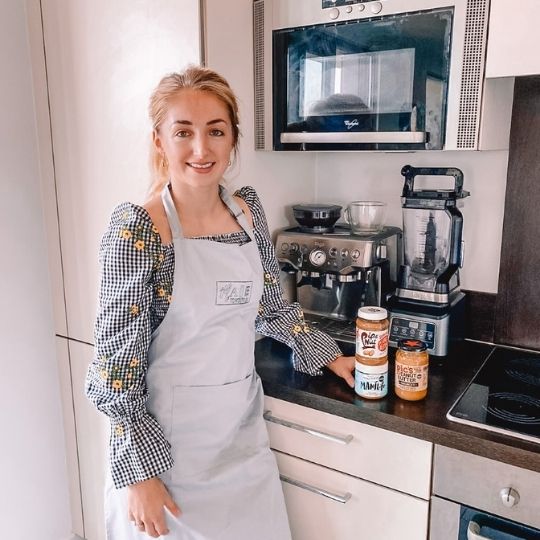 I'm Luce and I'm the Recipe Developer for MADE On Demand. I create tasty, easy to make plant based recipes for you all to enjoy, whether you fancy something sweet or savoury. You'll probably learn from this blog post that I am absolutely and utterly obsessed with nut butters. I am going to let you in on my favourites and give you some ideas of things you can do with the trusty peanut butter. 
Why is peanut butter a nutritious and a healthy choice?
Peanut butter, and peanuts in general are a great source of plant based protein and also contain some wonderful minerals and vitamins such as magnesium, zinc and potassium. Nut butter fills you up therefore improving satiety, due to their fat and protein content. You'll feel fuller for longer compared to when you eat for example a chocolate bar. Peanut butter contains monounsaturated fatty acids and polyunsaturated fatty acids which are linked to improving heart health. It's is an easy way to increase calories and unsaturated fat content, therefore it's also a good choice for those who also struggle to put on weight but want to do it in a nutrient dense way. As it doesn't contain any added sugars it's great for stabilising blood sugar levels, and therefore when consumed with a carbohydrate such as a banana it helps to stabilise the insulin response from the banana. Please note I am not a registered nutritionist so please ensure you do your own research too.
What are your favourite peanut butters and why?
My absolute favourite brand of peanut butter is Pic's Peanut Butter which is based in New Zealand. They have a factory out there that you can visit which is on my to do list at some point. It's deliciously creamy and is in my opinion the best for drizzling on things such as porridge. Unlike some it remains really soft in the jar making it easy to spread, which is what we all want right? They sell in Tesco's in the UK and have smooth and crunchy options. A good peanut butter should be made from just peanuts or peanuts with a small amount of salt. Ideally you should avoid brands that contain palm oil and any sugar/sweeteners. Once you find a good quality pure peanut butter you won't look back. Coming in second place is Manilife. You would have probably seen these guys online or on shop shelves. You can purchase online or from Sainsburys, Waitrose, Whole Foods, Dunnes stores and lots more independent shops. I adore their deep roast flavour which is definitely worth a try. And I love how even though both brands are made from just peanuts and salt (Pics – 99.5% peanuts & Manilife – 99.1% peanuts) they taste so different. It comes down to where the peanuts are sourced from, and how they are roasted which brings out their flavour. Runner up would have to be Pip & Nut who are probably the most popular. Their smooth peanut butter is 99.6% peanuts and the rest salt. 
How can you incorporate peanut butter into your diet?
I haven't been obsessed with peanut butter all of my life, but for the last 4 or so years I don't think I've gone a day without! The standard peanut butter and banana on toast is a wonderful classic. I always opt for crunchy peanut butter on toast as I love the nuts throughout. If not on toast I add both to rice cakes which is a great mid afternoon snack. I'll always add a spoonful to a smoothie for extra creaminess and a nutty flavour. It's an amazing source of protein and good fat so adding to a porridge bowl will compliment the carbohydrates really well. Peanut butter in baking is a game changer, especially vegan baking. It acts as a really good binder of ingredients that something non vegan like an egg would usually do. My absolute favourite thing ever to make is date caramel by simply blending dates and peanut butter together until smooth. A few other ways to use peanut butter are the well known pb and jam sandwiches, granola and brownies. You can even mix with some melted dark chocolate to add that lovely cacao flavour.